Why is Turkiye Popular for Medical Tourism?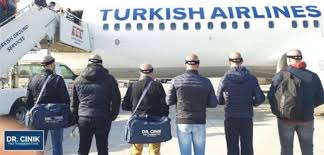 Why is Turkiye Popular for Medical Tourism?
---
By Binhan Oğuz
December 2022
---
MEDICAL TOURISM AND MEDİCAL EQUIPMENT SECTOR AFTER COVID-19
Although limited, improvements in the service sector are positive. The last world services data is promising; according to WTO Trademap, the services trade balance, which was $2.36 billion in 2020, gave a surplus of $7.5 billion last year. The pandemic process experienced in 2020 has heavily affected the service sectors, which are extremely sensitive to human mobility and travel restrictions. From its detection Covid-19 has wreaked death and destruction and economic chaos throughout most countries of the world. And that includes those countries where tourism and travel are significant employment and revenue generators. With most countries closing their borders and restricting travel to even their respective regions and cities, as Turkey,  the damage, economic, employment, and financial, have been evident for an industry dependent on the movement and social interaction of people. As it stands, at the global level there have been 617.597.680 confirmed cases of COVID-19  including 6.532.705 deaths, reported to WHO.
Recovery after COVID-19 in leading medical tourism destination and Turkey
Covid-19, a chastening experience for even the most advanced of countries, especially those strangely tardy in acting on dire warnings; actually, 95 261 000 confirmed cases in US and 23 735 000 cases in UK  which had been ranked by Global Health Security Index as the most prepared for epidemics and pandemics,
In its issue of World Tourism Barometer for 2022 the United Nations World Tourism Organization (UNWTO) expressed a cautiously optimism for the global tourism industry. Its forecast for arrivals was between 172%, in January-July 2022 compared to the same period of 2021. The catastrophic impact of Covid-19 in the health, social, and economic life of countries seems to have passed; but the high inflation and the spike in oil prices, aggravated by the war in Ukraine, continues to be the main challenging factor weighing on the recovery of tourism, according to experts.
Despite all existing risks, international tourism continued to show strong performance through 2022 also, with international tourist arrivals reaching 57% of pre-pandemic levels in the first seven months of 2022. Europe and the Middle East showed the fastest recovery in January-July 2022, with arrivals reaching 74% and 76% of 2019 levels, respectively; the Middle East (+287%) welcomed almost four times as many international arrivals as in the first seven months of 2022, while Europe (+190%) saw arrivals grow almost three times year-on-year in January-July 2022.
In paralel, with the resumption of travel, medical tourism is set to see growth by the end of 2022 at pre-pandemic rates as demand is being restored. As international travel has slowly resumed, so has the demand for medical tourism. Medical Tourism travel plans scheduled for the first six months of 2020 were cancelled, or have been postponed indefinitely. During summer 2020, global active Covid-19 caseloads temporarily declined, thus permitting the resumption of elective procedures. The pandemic caused a drastic, sudden, and dramatic impact on medical tourism. Income allocated to healthcare treatments and travel had  suddenly be reallocated to a more urgent need, survival. The Covid-19 pandemic has also introduced some new branch of medical tourism, as vaccine tourism. Some tourists  combined vaccination and tourism as their purposes of travel by paying significant sum to travel to a destination that has an abundance of Covid-19 vaccines…
GlobalData estimates this market to fully rebound to pre-pandemic levels by the end of 2022, after which it will experience pre-pandemic growth rates. GlobalData estimated that there were over 14 million inbound visits by medical tourists globally in 2019 and forecasts this number to continue to grow at a Compound Annual Growth Rate (CAGR) of 4.5% until 2024. Some of the fastest-growing markets are forecast to increase at CAGRs as high as 15% over the next few years. Several compounding factors contribute to the rapidly growing medical tourism industry in some leading medical tourism destination
According to the Healthcare Research Center (IHRC), medical tourism continues to make headlines as more and more patients from around the world travel outside their home countries for medical care. the Medical Tourism Index (MTI) developed by IHRC is a new type of country-based performance measure to assess the attractiveness of a country as a medical tourist destination; in the MTI ranking, the first 5 countries (Canada, Singapore, Japan, Spain,UK) are still among the developed countries where Turkey is in the 30th place.
The Covid-19 pandemic significantly impacted the medical tourism industry  for Turkey also where in 2019, 662,087 patients received health services, within the scope of health tourism, with an amount of tourism income of 1.065.105.000 USD in 2019. This income decreased to 548.882.000 USD in 2020 while the number of incoming patients  fell to 388,150.
According to USHAŞ (an institution of the Ministry of Health to promote the services offered in the field of international health services in Turkey) : "in the first quarter of 2022, 284.577 people received health services and the amount of income obtained was 332.212.000 USD. In the second quarter of 2022, 302,177 people came to our country to receive health services and the income obtained from this amounted to 436 million 212 thousand US dollars".
İn addition to Turkey, there is an increasing number of nations and regions promoting and branding themselves as medical travel destinations; a quick overview of, Thailand, Singapore, Latin America (Mexico, Costa Rica and the Dominican Republic) will provide some insights into the economic importance of medical tourism.
Thailand is not only a major tourism destination in the world but also one of the most popular countries for medical tourism. Thailand is one of 46 global destinations (Global ranking 17 out of 46) ranked within the 2020-2021 Medical Tourism Index, where one can note 632000 inbound medical tourist for 2019 with approximately 40 million tourist at the same year.
An ex-British colony, Singapore isranked as 2 within the 2020-2021 Medical Tourism Index; Singapore attracts premium regional medical tourists with high spending power. Prior to the COVID-19 pandemic, an estimated 500,000 foreign patients visited Singapore annually for medical treatment, according experts in the country.
Medical travel in Latin America began to expand in the last decade,particularly Mexico is a star destination for Medical tourism and can help to international patients to save up to 70% according experts in Mexico. The country is one of 46 global destinations (Global ranking 42 out of 46) ranked within the 2020-2021 Medical Tourism Index; Medical tourism in Mexico seems to have consistently grown over the last several years, with more than a million visitors from the US, Canada, and other countries traveling every year to Mexico for healthcare.
Costa Rica, for instance, which leads the Latin American medical tourism industry, according to the 2020Medical Tourism Index (MTI), attracts more than 2.4 million tourists yearly; most of the medical tourists to Costa Rica are from America or Canada. It is mainly because of the proximity, quality of healthcare and lower treatment cost. In 2016, more than 70,000 medical tourists visited the country for a range of medical treatments, up from 48,000 in 2011.
The Dominican Republic Global ranking is 19 out of 46 (ranked within the 2020-2021 Medical Tourism Index) with 47700 inbound medical tourist (6,4 tourist overall in 2019)
Due to the proximity to the U.S. and Canada, the Dominican Republic has became a top medical destination  for international patients
Even, Malaysia's medical tourism revenue had been declined up to 75 per cent this year during the Covid-19 pandemic from 2019, according to the Malaysian Healthcare Travel Council (MHTC) the country is also becoming a famous destination with 1,2 million medical travelers in 2018 generating over $362million from the
The impact of the pandemic has been devastating for many countries, such as MENA region As fertility decreases in the MENA region the demand for IVF and related services grows. In North Africa and the Middle East the estimated market seems to be $1 billion;
Technological developments and the quality of medical equipment used in hospitals directly affect medical tourism.
Impact on medical equipment world
Among the physical factors affecting the quality of service in medical tourism are the level of technology used in hospitals and the quality of machinery-equipment, the quality of health and accommodation services, and the hygiene conditions of hospitals; Many patients apply to medical tourism abroad due to the inadequacy of technological opportunities in their own country.
As, this unprecedented moment due to Covid 19 has significantly transformed every aspect of the health and wellness industry, the negativities have also affected the health technologies. Medical equipment sector, is a strategic "emerging" sector between the developing technology content and the technologies of the future.
However, the sector is in infantile stage in Turkey. In a past research on the medical equipment sector at the beginning of 2015, there was a foreign trade deficit of around 2 billion dollars for Turkey… but a quick overview of Turkey for 2021 provide a positive evolution with a decrease of the deficit for less than 940 000000 US  dollar; in 2015,
The biggest buyer of Turkey's total medical equipment exports is Germany with a share of 13.5%, followed by China (9.1%) and the Netherlands (6.1%), Slovenia (5.5%) and Iraq (4%) are among one of Turkey's most important 5 medical equipment customers.
Medical technology has positive impacts of medical tourism and by the way on healthcare, economic, social and environmental sectors; this creates opportunities and challenges for this growing industry which require cohesive collaborative work between various stakeholders. Medical equipment positively impacting medical tourism which doesn't only provide benefits to international patients; it extends a wide spectrum of benefits to many industries such as the healthcare industry, travel & tourism, commercial sector, government relationships, international accreditation sector, amongst others.