The PKK terrorist organization Behind Istanbul Terror Attack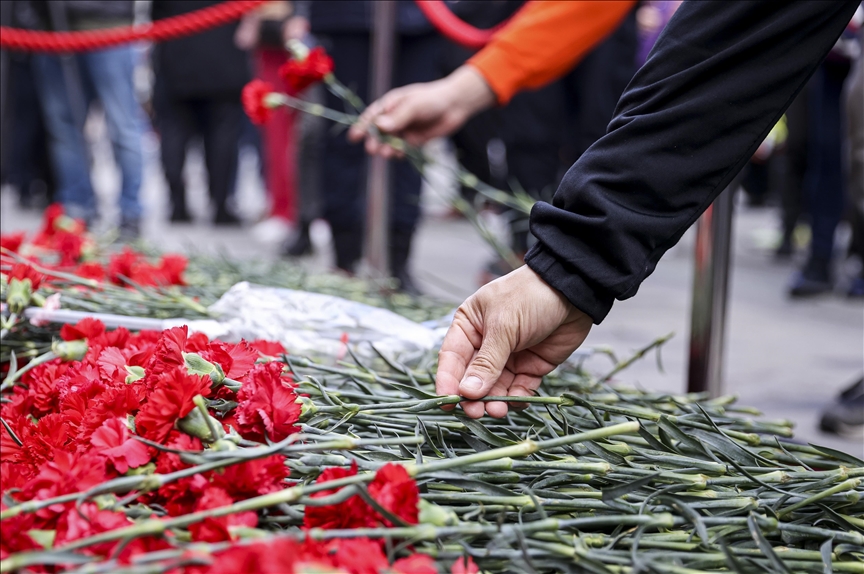 The PKK terrorist organization Behind Istanbul Terror Attack
---
A deadly blast in Istanbul's popular touristic destination Taksim (İstiklâl Street) on November 13, 2022 caused the death of at least 6 people and injured more than 80 others according to Turkish authorities and media institutions. The terrorist attack was organized on Sunday, a day when Istanbul's best-known commercial pedestrian avenue was full of citizens as well as tourists. In that sense, the attack clearly aimed at harming Turkey's tourism industry and its image as a safe host country.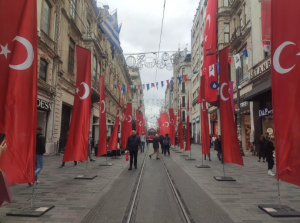 İstiklâl Street was decorated with Turkish flags after the incident
Taksim's İstiklâl Street… The long avenue known as "Turkey's Champs-Élysées" was full of citizens and tourists enjoying Istanbul's multicultural life; eating delicious street foods, listening to the melodies of street musicians, and buying new clothes in a historical place reflecting the Ottoman Empire's grandeur and encircled by foreign consulates and churches. A huge explosion around 16:20 disrupted the normalcy of life and caused panic and disorder among people. Tourists and citizens began to escape and Turkish police soon arrived at the place. The attack was carried out by a female terrorist covered in Islamic dress who detonated a parcel bomb made of TNT explosives.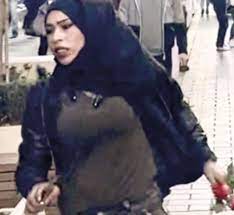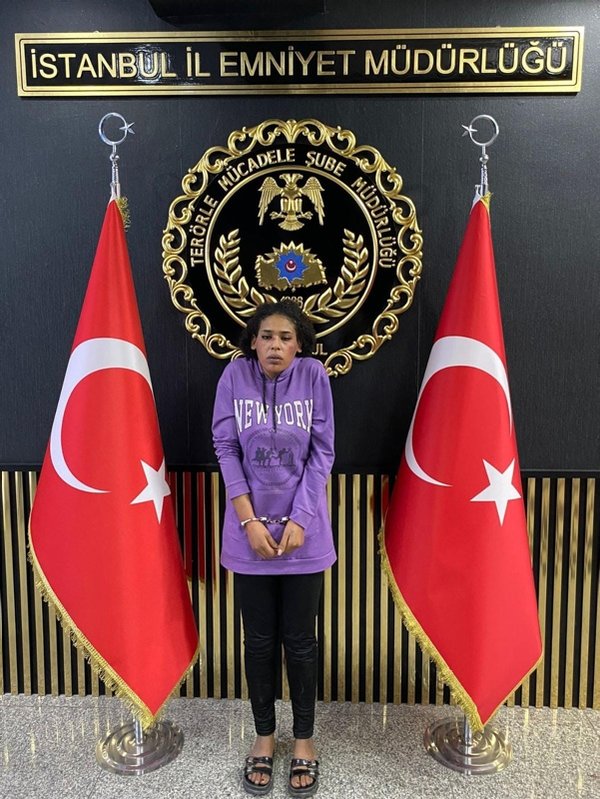 Syrian terrorist Ahlam Albashir was captured by Turkish police within a few hours after the bombing
Turkish police and intelligence were very quick to capture the terrorist after examining nearly 1,200 security cameras covering the avenue and phone-tappings of the terror-related groups. The female bomber was identified as Syrian national Ahlam Albashir and she was captured later that night at a safe house in Küçükçekmece. Turkish police later released a photograph showing the woman standing between two Turkish flags in handcuffs. During the police interrogation, the female terrorist confessed that she had been trained for months as a "special intelligence officer" by the outlawed Kurdistan Workers' Party (PKK) terrorist organization as well its Syrian branch Democratic Union Party (PYD) and its armed wing the People's Defense Units (YPG). Albashir also said that she entered Turkey illegally through the Syrian border town of Afrin a few months ago. At least 46 other people were also detained for questioning after the attack. Police discovered that the female terrorist was about to escape for Greece if she was not caught by the Turkish security forces.
US criticised
Condemnations of the attack and condolences for the victims poured in from several countries including the United States, the European Union, Egypt, Ukraine and Greece.
Turkish authorities linked support for the YPG by Washington and others to the blast.
Turkey's Interior Minister Süleyman Soylu made important statements following the attack. "Our assessment is that the order for the deadly terror attack came from Ayn al-Arab in northern Syria, where the PKK/YPG has its Syrian headquarters", said Soylu. Later Soylu also stated that "We know what message those who carried out this action want to give us. We got this message. Don't worry, we will pay them back heavily." Soylu also blamed the United States (U.S.) for its political and military support to Syrian Kurdish militia and said that they do not accept condolence message from Washington. The event caused public anger in Turkey which came to surface and became visible especially on social media. Although Turkish government tried to slow down the internet and censor the social media, huge nationalist reactions were observed against the Syrian immigrants, the U.S., and terror-affiliated groups.
Another crisis took place when Turkish people discovered that American The New York Times newspaper published a report that lacked expressions of sympathy with Turkish people and government. "Of the tens of millions of tourists from around the world who visit Turkey each year, many spend time in the area where Sunday's bombing took place", the newspaper stated in a tweet, referring to İstiklâl Street, the scene of the bombing. Turkish people showed anger towards the American journal in social media due to their cold reporting.
However, many world leaders expressed their condolences to Turkey following the attack.
PKK terrorism is influential in Turkey and its near abroad almost for 40 years and causing the death of approximately 40,000 lives including countless innocent women, children, and infants. In that sense, it can be said that the country is immune to terrorism and Turkish people are very determined for eliminating all kinds of terrorism. After the capture of Abdullah Öcalan in 1999, everyone hoped for a political solution to decades old problem; but so far no solution was materialized. Moreover, Syrian civil war and its spillover effects created new safe havens for PKK-related terrorist groups, which all Western governments should take seriously.
Although there can be political disagreements among countries, this kind of violence targeting civilians and causing fear among ordinary people should be condemned by everyone. There can be no political cause or excuse that would justify the killing of innocent civilians. In that sense, this is a day of solidarity with Türkiye although the country's democratic deficits and problematic relations with its neighbors and other countries are also facts.  In that sense, Western countries and especially the U.S. should try to understand Turkey's sensitivities on terrorism and offer a roadmap to eliminate political and economic problems in the region.
Civilians targeted in years of terrorist group PKK attacks on Türkiye
For four decades the terrorist group PKK has waged a deadly terror campaign against Türkiye, targeting both security forces and civilians, including women, children, and infants. Here's how the terror group became a threat to the country as well as regional peace.
The PKK was established in the Turkish capital Ankara in 1974 as a Marxist-Leninist organization by mostly left-leaning Kurdish students led by Abdullah Ocalan. The group initially sought to establish a joint independent entity in Kurdish-dominated areas of Türkiye, Syria, Iraq, and Iran, calling it "Kurdistan."
On Aug. 15, 1984, PKK terrorists carried out their first armed attacks against Türkiye in the southeast: in the Eruh district of the Siirt province and the Semdinli district of the Hakkari province.
On Jan. 22, 1987, the terror group stormed a wedding reception in the village of Ortabag in Sirnak, killing eight people, including four women and two children. The PKK also stormed a village in the Omerli district of the southeastern Mardin province, killing 30 people, including 16 children.
One day later the bloody terror group killed 10 people in the Midyat district in the Mardin province, including two infants.
On March 7 of the same year, a PKK terrorist firing squad killed a total of eight people, including six children.
In its attempts to seize land in the region by spreading fear, the PKK did not hesitate to kill those who opposed the terror group.
The year 1987 went down in history as one marked by PKK massacres.
On May 9, 1987, in a village in Mardin's Nusaybin district, the terror group killed 11 people, including eight children and two women.
On July 8 of the same year, PKK terrorists struck a village in the Midyat district and killed nine people from the same family – two women and seven children.
On Aug. 18 of that year, terrorists targeted the Eruh district in Siirt and killed 25 people, including two infants. Notably, 14 of those massacred had not reached their 18th birthday.
– 1990s: Massacres peak
The PKK terrorist organization continued its massacres in the 1990s and the years to come, showing no discrimination between security forces and civilians.
On March 21, 1990, PKK terrorists blocked a road in the Kovancilar district in the eastern Elazig province, and the terror group's firing squad killed nine engineers and a laborer.
The same year, PKK terrorists attacked a village guard's houses in the Guclukonak district in Sirnak and killed 27 people, including seven women and 12 children.
The terrorist group also massacred civilians in larger cities, including throwing Molotov cocktails at a store in Istanbul's Bakirkoy district on Dec. 25, 1991.
On July 14, 1991, PKK terrorists raided villages in the Caglayancerit and Pazarcik districts of the southern Kahramanmaras province and killed nine people, including women and children.
The terrorist group also attacked vehicles carrying civilians in Midyat in 1991 and brutally murdered 19 of them.
On May 23, 1992, the PKK attacked a village in Sirnak and killed four people, including two women and two children.
On Oct. 1, 1992, PKK terrorists raided a village in Bitlis province with a group of 100 terrorists. Members of the group told the village guards to lay down their weapons, pledging that they would not harm the women and children. The village guards then dropped their weapons, but the terrorists went broke their word and killed 30 people, including women and children.
On June 22, 1992, PKK members raided the village guard's house in a village in the Gercus district of the Batman province and murdered 10 people. A month-old newborn was among their innocent victims.
On June 27, 1992, the terrorist PKK, known for its hostility to religion, raided a village mosque in the Silvan district of the southeastern Diyarbakir province, killing 10 people.
That same year, the PKK killed 12 civilians in the Hani district in Diyarbakir, including four women and four children.
– Unarmed soldiers massacred
On May 24, 1993, PKK terrorists blocked the Bingol-Elazig highway in the country's east and killed 33 unarmed soldiers who were traveling to their military units by bus.
On July 5, 1993, a terrorist PKK firing squad set the village of Basbaglar in the eastern Erzincan province on fire, killing 33 civilians.
The PKK continued its massacres that year, killing 24 people in eastern Van province, 14 of them children.
On the first day of 1994, the terrorist group stopped a passenger bus in the Maden district of Elazig and killed eight people.
PKK terrorists attacked the village of Hamzali in Diyarbakir on the first day of 1995, killing 20 people, including women, children, and the elderly.
– Teachers killed
On Sept. 11, 1994, six teachers working in Tunceli were shot dead by PKK terrorists.
One month after the massacre, PKK members abducted five teachers who were working in the villages of Katranli and Taskesen in Erzurum and killed four of them.
On July 24, 1995, PKK terrorists raided a village in the Gurpinar district of Van, but they met resistance from the villagers. Shortly after, PKK terrorists attacked houses in the village with rockets, killing 12 civilians and injuring 13 others.
PKK terrorists also raided a mine in the Samandag district of the southern Hatay province on Sept. 5, 1995. The terror group's firing squad killed nine miners.
The terrorist group then started targeting civilians in city centers with suicide bombers, attacking the historical Spice Bazaar, one of Istanbul's most crowded spaces, on July 9, 1998. Seven people died and 121 were injured in a bomb blast.
On May 22, 2007, the capital Ankara also became a PKK target. In a suicide bomb attack, nine people were killed and more than 100 civilians injured.
On July 27, 2008, two bombs planted by the PKK exploded in the Gungoren district of Istanbul, and 18 civilians, including five children, were killed and 154 injured.
On Aug. 5, 2012, PKK terrorists killed three villagers in the Menemen district of the western coastal province of Izmir. Two days later, they also attacked a vehicle carrying military personnel in Izmir's Foca district. In the Aug. 7, 2012 attack, two soldiers were killed and 25 people injured, including civilians.
– Teens giving food to the needy killed
In October 2014, the opposition Peoples' Democratic Party (HDP) called on people to take to the streets, triggering violent clashes with security forces. Two police officers along with 31 civilians lost their lives, while 221 civilians and 139 police officers were wounded.
Government prosecutors have charged the HDP with ties with the terrorist PKK – essentially acting as a PKK front – and are currently seeking the party's closure.
Among those killed in the 2014 clashes were Yasin Boru, a 16-year-old, and two of his friends, who were trying to deliver food donated during the Muslim holy month of Ramadan to neighbors and poor families.
On Aug. 30, 2015, 13-year-old Firat Simpil left his home to buy fruit and vegetables for his family in the Silvan district of Diyarbakir, but a roadside bomb planted by the PKK exploded and killed him.
On Sept. 28, 2015, PKK terrorists attacked a police car with rockets. Elif Simsek, a 9-year-old girl, was killed after her house was targeted by the PKK.
On Nov. 10, 2016, Muhammet Fatih Safiturk, the district governor of Derik in Mardin, died in hospital a day after a bomb attack in his office by PKK terrorists.
– Durumlu massacre
PKK terrorists detonated a bomb-laden truck in the village of Durumlu in Diyarbakir's Sur district on May 12, 2016, reportedly following an argument with a group of villagers who spotted the vehicle and began chasing it. The blast killed 16 people and injured 23 others.
On the evening of Dec. 10, 2016, just after a football match attended by thousands, two explosions caused by a car bomb and a suicide bombing in Istanbul's Besiktas municipality killed 48 people and injured 166 others.
– Attacks on teachers
On June 9, 2017, a PKK attack killed 22-year-old music teacher Senay Aybuke Yalcin as she was returning home from school in Kozluk in the Batman province.
Another 23-year-old teacher, Necmettin Yilmaz, became the victim of a PKK attack on June 16 of the same year.
His vehicle was torched by PKK terrorists in the Pulumur district of Tunceli, while his body was recovered on July 12 near a stream.
– Children, teens, and babies cut down by PKK terrorists
On Aug. 11, 2017, a 15-year-old boy was killed by PKK terrorists in northern Türkiye.
Eren Bulbul died from gunshot wounds as he helped gendarmerie forces track PKK members in Macka, a town 22 kilometers (14 miles) south of the Black Sea city of Trabzon.
On July 31, 2018, an 11-month-old baby, Bedirhan Karakaya, became one of the youngest victims of the PKK when he was killed along with his mother as they were returning from a visit to his father, Gendermarie Sgt. Serkan Karakaya, in Yuksekova, in the southeastern Hakkari province.
On May 5, 2019, 23-year-old Servet and his cousin, 13-year-old Diyar Bilen, fell victim to a PKK terrorist attack while returning from a picnic in the Mount Cudi region in southeastern Sirnak's Silopi district.
On July 15, 2019, a young brother and sister, 8-year-old Ayaz Guloglu and 4-year-old Nupelda, were killed by an improvised explosive device (IED) planted by the terrorist group while they were collecting flowers in a field in southeastern Tunceli province's Ovacik district.
On April 8, 2020, five civilians were killed when PKK terrorists attacked a group of forest workers heading to collect wood in the southeastern Diyarbakır province.
On Nov. 4, 2020, PKK terrorists killed at least three construction workers in the Derecik district of the Hakkari province.
On Oct. 2, 2021, two utility workers were killed in a roadside bomb blast by the PKK terror group in Genc in the eastern Bingol province.
In 2021, only 26 terror attacks took place within Türkiye's borders, all of them carried out by the PKK and its divisions. A total of 16 security forces died in the attacks.
Most recently, on Nov. 13, 2022, a PKK terrorist carried out deadly attack on Istanbul's popular pedestrian Istiklal Avenue, killing at least six people and injuring 81 others, two critically.
In its more than 35-year terror campaign against Türkiye, the PKK – listed as a terrorist organization by Türkiye, the US, and EU – has been responsible for the deaths of some 40,000 people, including innocent women, children, and infants.