"Türkiye discovered new natural gas reserves"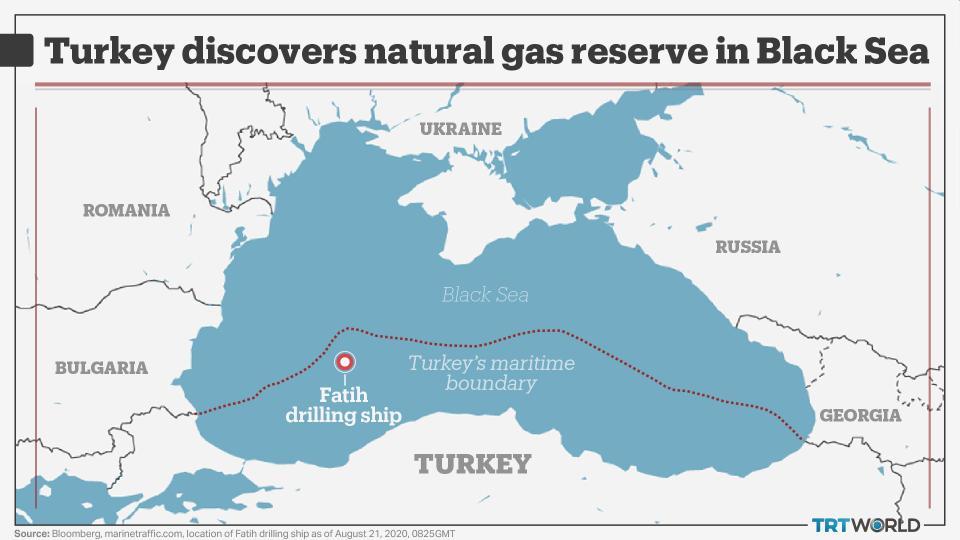 "Türkiye discovered new natural gas reserves"
---
Anatolia Report 
January 2023
---
Turkish President Recep Tayyip Erdoğan announced on December 26 that one of Türkiye's 3 drilling ships working in Black Sea has discovered new natural gas reserve of 58 billion cubic meters worth 1 trillion dollars.
"Thus, our gas reserve in the Black Sea has increased by 170 billion cubic meters and reached 710 billion cubic meters with our new discovery in Çaycuma 1. The equivalent of the natural gas we discovered in the Black Sea in the international markets today is 1 trillion dollars," Erdoğan said in a press conference after the cabinet meeting held on December 26,2022 in Ankara.
"We are determined to ensure that Türkiye is the energy center of the Caspian, the Mediterranean and the Middle East. Our private and public daily domestic oil production has reached 80 thousand barrels as of today. We aim to increase our production to 100 thousand barrels next year," he said.
Natural gas works in the Black Sea
Türkiye has three drilling vessels, Fatih, Kanuni and Yavuz, which continue their drilling works in the Black Sea Northern Sakarya Gas field. In addition to these ships, the Abdulhamid Han drilling ship started its operations in the Mediterranean in August.
As of the end of 2019, Türkiye reported 3 billion cubic meters natural gas reserves according to official numbers.  August 2020 Erdoğan announced there were 320 billion cubic meters of reserves found in Sakarya field in Black Sea. It followed the 85 billion cubic meters reserve discovery announced on October 2020 and 135 billion cubic meters natural gas discovery in Amasra in June 2021.
A total of 540 billion cubic meters of gas reserves that have been announced to be discovered have not yet been published in international reports.
In his statement in June, Minister of Energy and Natural Resources Fatih Dönmez stated that ruling AKP government aims to meet 25 percent of the gas used in Türkiye by resources extracted from the Black Sea by 2026.
Putin and Türkiye becoming an energy hub
As a result of the disruptions in Russia's energy supply to Europe due to the embargoes due to Russia's invasion of Ukraine, Putin suggested last month that Russian gas could be transported to Europe via Türkiye, prompting controversy.
Referring to the issue in October, Erdogan said, "As a result of our negotiations with Russia, we will hopefully distribute natural gas from Russia as TurkStream to Europe from Türkiye."
Türkiye's annual natural gas consumption is approximately 59 billion cubic meters according to the statistics of 2021. 20 percent of this natural gas is used for power plants, 15 percent for industry and 16 percent for residential consumption.
According to the Energy Market Regulatory Board (EMRA) 2022 report, Türkiye imported 58 billion cubic meters of natural gas in 2021. It bought 44 percent of this natural gas from Russia. As of the end of 2021, the actual underground storage capacity of Türkiye registered under the license is 4 billion cubic meters.
Again, according to EMRA data, only 394 million cubic meters of gas is produced in Türkiye as of 2021. The 58 billion cubic meters needed is imported.