History Repeating Itself: Trial of Ekrem Imamoğlu Public Opinion
History Repeating Itself: Trial of Ekrem Imamoğlu
---
Turkiye Raporu 
January 2023
---
"THE DATA PRESENTED IN THIS SECTION ARE THE RESULT OF A SPECIAL SURVEY CONDUCTED WITH 1500 PEOPLE IN TURKİYE ON 15 DECEMBER 2022."
"Istanbul Metropolitan Municipality Mayor Recep Tayyip Erdoğan, who was sentenced to 10 months in prison, will be dismissed as mayor and his political life will end if the decision is approved by the Supreme Court."
22 April 1998. With the headline "His political life may end", Hürriyet Newspaper reports the news of the imprisonment sentence of the Istanbul Mayor Recep Tayyip Erdoğan. At the bottom is a photograph of Erdoğan, who is only 44 years old, in a brown jacket, giving a speech. Just below that, his statement on the verdict appears: "It has no value."
Prof. Adem Sözüer, an expert on criminal law, presents a scientific opinion in the trial against Erdoğan for the poem he read in Siirt, stating that there is no criminal element. He is not taken into consideration. In 1999, unaware that he would become the leading actor of the Turkiye in the 2000s, Erdoğan spends months in Kırklareli's Pınarhisar Prison.
The political ban and imprisonment sentence against Erdoğan was a disgrace to democracy. Even though years passed and the government changed, the judiciary, which subordinated to politics, remained the same. This democratic shame was repeated exactly 24 years later in Saraçhane. The outcome of the lawsuit filed against Ekrem İmamoğlu, the Mayor of Istanbul, for "insulting the members of the Supreme Election Board" created a new conflict in Turkish politics. Interestingly, Prof. Adem Sözüer, who gave a scientific opinion in the Erdoğan trial in 1998, also gave a scientific opinion for the İmamoğlu case, stating that there was no element of crime, but the judiciary did not take it into consideration again.
As a result, Ekrem İmamoğlu was sentenced to 2 years, 7 months and 15 days in prison and a political ban at the court held on the evening of 14 December.
The origin of the trial dates back to İmamoğlu's speech in Strasbourg, France on 30 October 2019. In his speech, the Istanbul mayor argued that "the government wants to win the elections in Istanbul by cancelling the elections with the decision of the Supreme Board of Elections (YSK)", and a few days later, Minister of the Interior Süleyman Soylu said, "I am telling the fool who went to the European Parliament and complained about Turkiye. This nation will make you pay for this. During his statement to journalists on the same day, Imamoğlu, upon being reminded of Soylu's words, said, "Those who cancelled the elections on March 31st are fools, let us focus on that first." Following this statement, the YSK filed a criminal complaint and the lawsuit process began.
The verdict of the İmamoğlu trial will be appealed to the Court of Appeal then the Supreme Court of Appeals. Therefore, the case is not yet completely finalised. But whatever the outcome, the verdict has already triggered the struggle for justice in Saraçhane.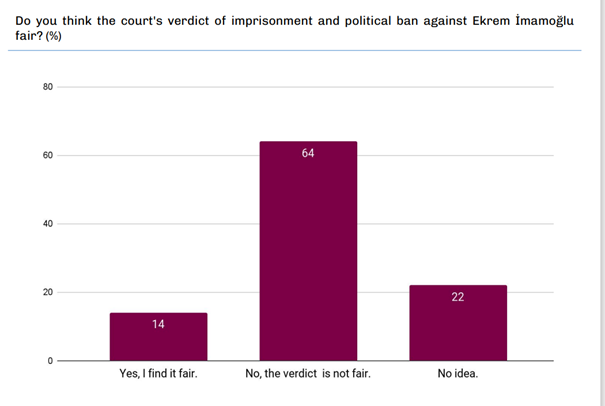 A majority of 64% thinks that the verdict in the İmamoğlu case is unfair. 14% find the decision fair. 21% say that they have no idea about the issue.