Rising Tension Between NATO and Turkiye ( Public Opinion Poll %)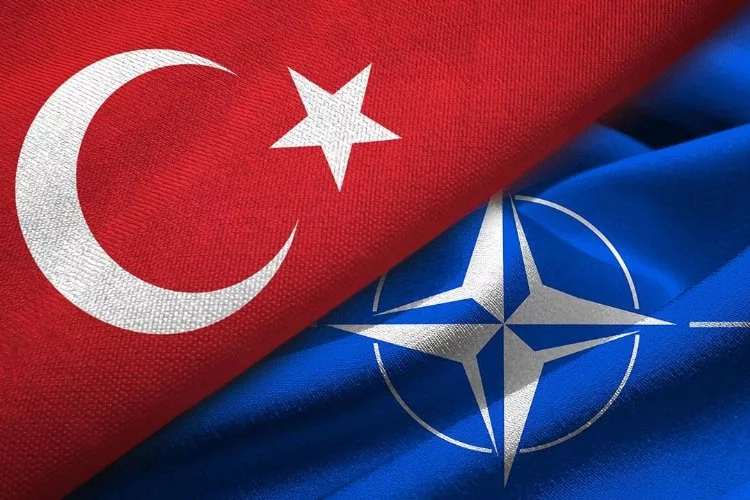 Rising Tension Between NATO and Turkiye
---
By Turkiye Raporu 
July 2022
---
Starting on 24 February, the Russia-Ukraine war raised security concerns in non-NATO countries. In the Scandinavian countries, which have been pursuing a policy of neutrality for many years, the security concerns caused by Russia's aggressive military aggression have brought the debate on NATO membership to the agenda. Sweden and Finland, seeking to be able to benefit from the protection provided by NATO's Article 5, officially applied to join NATO on 18 May.
President Erdoğan, on the other hand, first stated on 13 May that he had a critical view of the two countries' membership to NATO. This is not Ankara's first diplomatic crisis with both Stockholm and Helsinki.  In 2019, Sweden imposed an arms embargo on Turkiye due to its military operations in Syria. Turkiye, on the other hand, claims that Sweden provides financial support and military equipment to the YPG. "Our approach to NATO enlargement stems not from bigotry or hostility, but from our fundamental stance on the fight against terrorism," Erdoğan said on 23 May, referring to the security issue.
Turkiye's approval is required for Sweden and Finland membership in NATO. In this sense, it is expected to witness a strong diplomacy between the countries at the NATO leaders' summit which will take place in Madrid on 29-30 June. Why is President Erdoğan strongly opposed to Sweden and Finland joining NATO? Firstly, according to many experts, with Sweden and Finland's request to join the alliance, Turkiye has gained considerable influence. Ankara will be able to emphasise the growing terrorist threat to its borders, particularly in Syria and Iraq, and to ensure that NATO will focus on Turkiye's security challenges. The two countries' request to join the alliance also provided a basis for Erdoğan to consult with US President Biden on security issues. Considering that Biden, unlike Trump, has a more distant attitude towards Turkiye, it can be said that this diplomatic process has created an opportunity for Turkiye to voice its security issues more effectively.
Some experts, on the other hand, believe that Erdogan's behaviour is an effort to restore the balance with Russia. Indeed, Moscow had expressed its discontent over the sale of Bayraktar drones to Ukraine. In this context, preventing Sweden and Finland from joining the alliance will undoubtedly be an significant victory for Putin and will lead to an improvement in relations with Turkiye. Others argue that Erdoğan's position is aimed at "scoring points" in domestic politics by defending the country's security interests. In other words, Turkiye will accept the two countries' membership in NATO at some point.
In our June survey, we examine the public's view on the current diplomatic process in NATO.
Which of the following statements do you agree with Erdogan's strong opposition to Sweden and Finland's request for NATO membership?(%)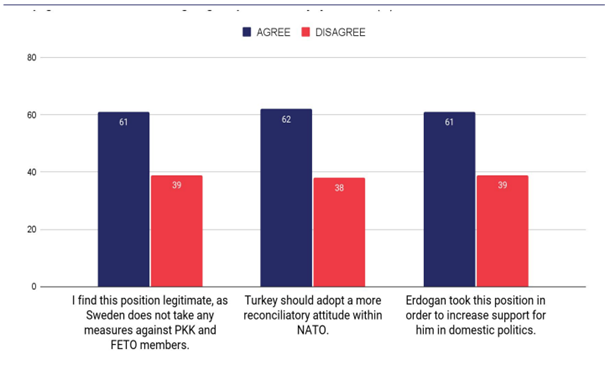 The most preferred option by the participants was "Turkiye should adopt a more reconciliatory attitude within NATO" with 62%. When the results are evaluated, it is seen that the rates are close to each other in all options. The rate of those who support Erdogan's reaction is 61% because of Sweden's tolerant approach towards groups that Turkiye considers as terrorist organizations.
The rate of those who think that Erdogan's attitude was aimed at increasing support for him in domestic politics was also 61%.

When we analyze it within the framework of voter groups, we see that the majority of People's Alliance voters support Erdogan's stance within NATO. While 71% percent of AK Party voters find this attitude correct, this rate rises to 80% percent in MHP voters. On the other hand, the majority of HDP voters, with 77%, state that Erdogan's stance on Sweden's NATO membership is not correct. When we look at the education levels, it is seen that there is no significant difference of opinion between the groups.